Daikoku is a member of Team Kū who fought and lost against Tokiya Mikagami. He usually acts as a voice of reason between the other junior team members.
Abilities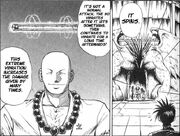 Daikoku fights using a bō-staff (which some believe to be a madōgu) that is hollow and he can rotate, while Daikoku is spinning it causing vibrations and gives it the power to destroy hard objects such as rocks and create fissures in the ground in the direction he struck. He is known for his swift and accurate fighting technique, but is defeated by Mikagami.
Ad blocker interference detected!
Wikia is a free-to-use site that makes money from advertising. We have a modified experience for viewers using ad blockers

Wikia is not accessible if you've made further modifications. Remove the custom ad blocker rule(s) and the page will load as expected.