Nadare
Information
Kanji/Kana
崩
Rōmaji
Sex
Female
Height
Weight
Age
Status
Deceased
Birthday
Blood Type
Zodiac Sign
Hair
Black (manga, pachinko game)
Blue (anime)
Eyes
Madōgu
Family
Manga Debut
Chapter
Anime Debut
Episode 13
Affiliation
Recca Hanabishi, Hokage
Seiyu
Junko Noda
Actor
Kris Rundle

Nadare (崩) is the first Flame Dragon, with the power to produce fireballs. She is the friendliest of all the dragons and is often used by Recca along with Saiha. Nadare was the first dragon to lend her powers to Recca as he was protecting Kagerō, though Recca refers to Saiha as the "first form" of the Flame Dragons. Human-wise, she is a kunoichi with a ponytail. She has shown the ability to create one giant fireball instead of multiple small fireballs. This fireball can also separate into numerous small fireballs.
Official Description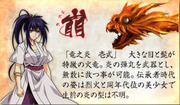 "The 'First Flame Dragon' is a dragon with large eyes and a beard. She has the power to create countless fireballs to barrage the opponent. Her human body looks to be around Recca's age, and the original form of her flame is unknown."
Gallery
Ad blocker interference detected!
Wikia is a free-to-use site that makes money from advertising. We have a modified experience for viewers using ad blockers

Wikia is not accessible if you've made further modifications. Remove the custom ad blocker rule(s) and the page will load as expected.