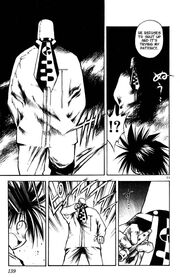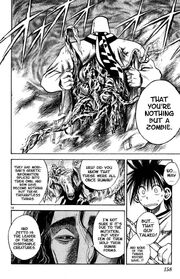 Z is the leader of the zombies who fights for Mori under the orders of an unnamed scientist. He possesses a whistle to summon more zombies to aid him. The zombies are former human beings created through infusing their bodies with cells taken from Mori (who had already fused with the Tendō Jigoku at the time). Mori's cells don't mesh well with the human body, and it causes mutations and eats away at the human cells, which will ultimately destroy the zombie. The scientist created a sort of medicine to slow down this deterioration, and he gives this to Z and the other zombies as a reward for obeying his orders. Koganei convinces Z that he and his comrades are not disposable creatures as the scientist said, but they are still human despite their monstrous forms. This causes Z to betray the scientist and order the other zombies to stop attacking the Hokage and the Hokage's allies.
Ad blocker interference detected!
Wikia is a free-to-use site that makes money from advertising. We have a modified experience for viewers using ad blockers

Wikia is not accessible if you've made further modifications. Remove the custom ad blocker rule(s) and the page will load as expected.